Open (Casual) Bowling
Open Bowling Hours (Summer):
* Saturday 10 am to 10 pm
* Sunday Noon to 8 pm
* Tuesday Noon to 10 pm
* Wednesday 9 am to 10 pm
* Thursday Noon to 10 pm
* Friday 9 am to 10 pm
Some limitations during league play, birthday parties or group events.
OPEN BOWLING RATES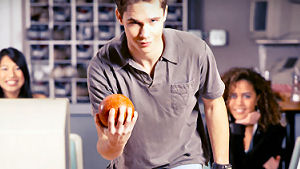 OPEN BOWLING RATES
Per game:
$5 per person per game
includes rental shoes
Children ages 10 and under: $4 per person per game
—————————-
Hourly rates (available by request)
Price per lane –
partial hours pro-rated
(includes rental shoes)
1-2 bowlers $25/hour
3-4 bowlers $30/hour
5 or more bowlers $35/hour
—————————-
Bumpers available on many lanes for small children and the disabled at no added charge.

Subject to lane availability.

Rates subject to change without notice.